There's good news and bad news here. The good news is you all have a completely new section of stone statues and would-be stone statues to take a gander at. The bad news is, you have probably already seen these images before... at least, most of them. With the newsgroup becoming so big here lately, and with the advent of the Medusa Realm, a lot of our images lately have become 'shared images'. Truthfully, that's all fine with me... I get a few images here and there that haven't been seen other places yet, and I still get a few people who offer me exclusive images, so those will be making their way to the next couple image pages.

I apologize for not getting this image page up sooner, but with the Fiction Archive updates, adding images to the Cartoon Archives, and generally trying to get a couple of my own stories out there (so I don't look like a complete freeloader), my time has been a little short of late. I hope maybe I can make it up to you all in the next couple weeks, and maybe get that Statue-Lover's FAQ out-- I've had a lot of people asking me how soon that'll be out in the open for their perusing pleasure. In the meantime, the message board (as always) is open, and we've had some pretty good threads going on lately, the #asfr room in sandnet is hopping almost every night, and we have people regularly posting to the newsgroup.

All in all, it's a great time to be a statue-lover. Peace out till next time.


---


Click on thumbnail to see full size image.

This page has been made with Netscape Composer and is especially Netscape-Communicator-friendly. If you have problems seeing the title of the piece or the byline, I apologize. To conserve space and hopefully have this page remain up for more than 5 minutes before it becomes unavailable, I have taken away the old image info sections. Hope this doesn't make too many people throw bricks at my house.


---

Archive Six: Stone Pics and Transformations Part DEUX!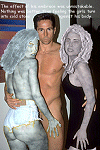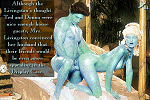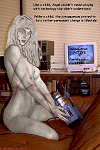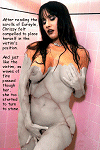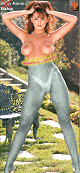 ---


MISSING IMAGES Huge thanks to WK for finding the Buckcomic image. Still missing (in order of non-appearance - complicated by the lack of even thumbnails): ww05stone.jpg [Lynda Carter/Wonder Woman??], triostat.jpg [presumably from the same Your Assignment image that gave us JLS - Sleepover] --Leem.

If I have mistakenly not given proper credit to the correct people with these images, please e-mail me and tell me so. I have tried to keep the artist's name (and pen-names) intact through moving these pics to my new system and during downloads... considering the tremendous amount of images I receive in one week's time, it's not always easy keeping the names straight. Any help, nudges, or benefits of the doubt you can give me would be appreciated. :-)

As a side note, I'd like to say, I really like the comic-book type pictures that people have been doing lately, like the Wonder Woman pics on the NG, the Buck Rogers comic (above) and a couple others. Seems a lot of people really enjoy the before/during/after pics, as there seems to be a good response about them, but all in all, people want to see pics. So I can't help but try to cater to them, as I like seeing them, too. Kudos again to all NG posters and those people who submit images and stories to me. You keep bringing the statue-lover folk back again and again. Give yourself a pat on the back.


---


Like it? Dislike it? Found the floppy disk with all the missing pics? Want to see these images pages come out more often than weekly? [The latter now seems highly unlikely --Leem]



well, you know what I mean...



or, just take what's behind door number two, and

Go On Back To The Main Hall