Site Introduction | Art Gallery Index | View Pictures
Melancholy nude women

Egyptian girls

Albert Toft
(1862-1949)
Spirit of Contemplation
Bronze, 1901; Laing Art Gallery, Newcastle-upon-Tyne, England
A nude woman in an Egyptian headdress reclines in an ornately-carved chair.
This image, together with Edward Onslow Ford's statue The Singer, inspired my adult story "The Singer". Do not follow this link if you find erotic content offensive.

A scroll is draped across the woman's lap, except in one photo which I previously identified as a plaster model but which may in fact be a variant bronze version.

Further information on the artist can be found at The Victorian Web (complete with typos - the headline mistakenly gives his first name as "Alfred"!) and also on Bob Speel's site (UPDATED LINK), which has lots of useful information about artists, but unfortunately very few images.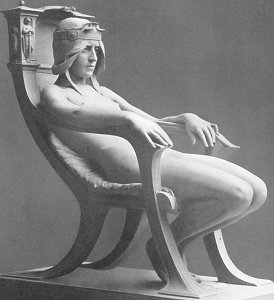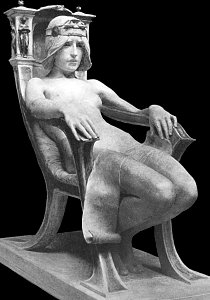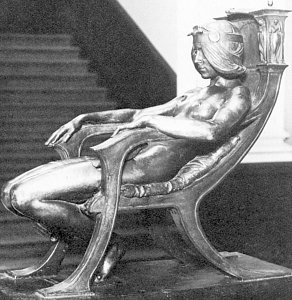 Most of these images are incredibly rare, and it's taken me years to find them.
(I don't suppose some obliging Geordie photographer could visit the Laing Gallery and e-mail me a few dozen views of the statue in colour, could they?!)
(1) Version without scroll (plaster or bronze?) | (2) Version with scroll (bronze)
(3) Front overhead view | (4) Right view, signature on base
Fate-Led
Marble, 1891; Walker Art Gallery, Liverpool, England
A nude blind girl trusts in fate to guide her footsteps. Yeah, good luck with that... The Walker Gallery's sculpture room is incrediby cluttered (large bags are banned for fear of someone knocking over a statue) and contains some fantastic works including this one.


The following 5 photos are by Leem. Permission is granted to copy, distribute and/or modify these images under the terms of the GNU Free Documentation license, Version 1.2 or any later version published by the Free Software Foundation; with no Invariant Sections, no Front-Cover Texts, and no Back-Cover Texts. A copy of the license can be found in the Wikimedia Commons entry "GNU Free Documentation License".




(1) Back view | (2) Back right view | (3) Right view | (4) Front left view | (5) Left view



Other Works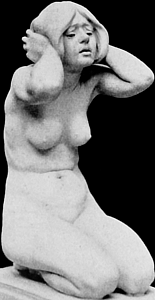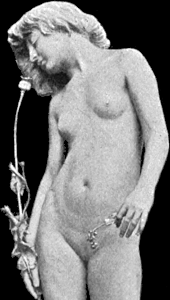 Two rare webfinds (updated with larger images):
(1) Hagar | (2) Evening
Comment on This Page
Site Introduction | Art Gallery Index | Return to Top of Page