Site Introduction | Art Gallery Index | Found images | Tate Britain August-September 2010


Melancholy nude women

Harry Bates
(1850 - 1899)
Pandora
Marble, ivory and bronze, 1891; Tate Britain Gallery, London
Page revised and updated with new photos September 2010 and August 2011
Artist Biography courtesy of The Victorian Web
Pandora in Bulfinch's Mythology

It seems that in the original story the container of the world's troubles which Pandora is tempted to open was described as a jar or bottle, and only became the familiar box through a mistranslation. Bates executed his version in 1891, and the finely detailed ivory box (carved at a time when elephants were believed to be an inexhaustible resource) is nicely contrasted by Pandora's smooth cream-white marble body.

The Tate's many Victorian statues seem to spend most of their time locked away out of sight, like some embarrassing senile relative. It seems that in the case of Pandora, the statue's fragility might be a factor in its dearth of public appearances. All the weight of the figure is balanced on three small points - one knee and the tips of its toes - and there are also fears that the weight of the ivory box might cause the arms to break. It's a shame, but maybe they could try using fine wires or perspex blocks to help distribute its weight while on display.

For many years even photographs were a bit hard to come by, but after lots of diligent research and a couple of accidental discoveries, I managed to find a selection of pictures showing the statue from a variety of angles.
Found Images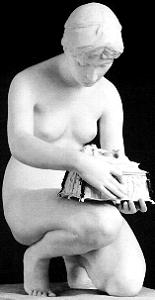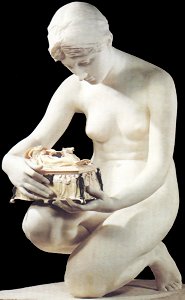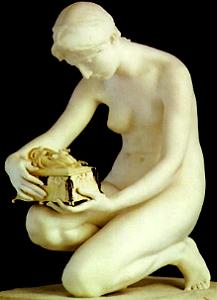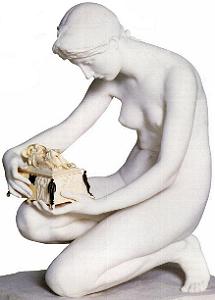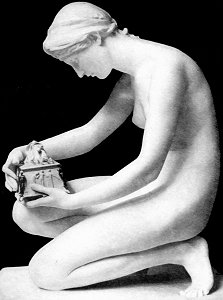 Then to my surprise the Tate Britain gallery opened a temporary exhibition of "The New Sculpture" of the late Victorian era. At last I was able to come face to face with Pandora for the first time, as well as several statues by Edward Onslow Ford. (Bates and Ford were close contemporaries, born just two years apart, and sadly also dying just two years apart, before either had reached his 50th birthday.)

Photographing the exhibition wasn't easy. Several of the works including Pandora were in glass cases and only hand-held photography was permitted - and no flash, of course (which in any case would have caused more problems with all the glass). So you can expect to see some grain, soft focus and stray reflections. Even so, I managed to get some angles that aren't in the other pictures, and I don't think my versions are too bad considering.

Versions of these photos have also been posted on
my Flickr account, under the username Ketrin1407.



Tate Britain Gallery, London, August-September 2010




The following 19 photos are by Leem. Permission is granted to copy, distribute and/or modify these images under the terms of the GNU Free Documentation license, Version 1.2 or any later version published by the Free Software Foundation; with no Invariant Sections, no Front-Cover Texts, and no Back-Cover Texts. A copy of the license can be found in the Wikimedia Commons entry "GNU Free Documentation License".





Full figure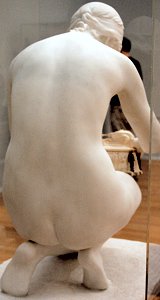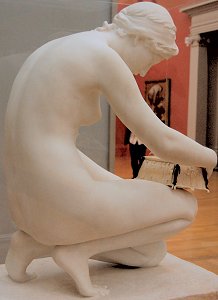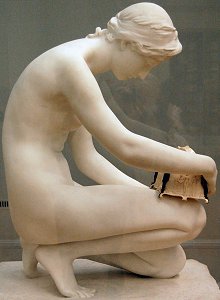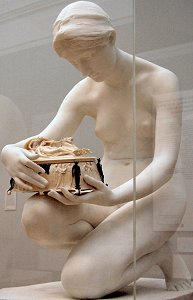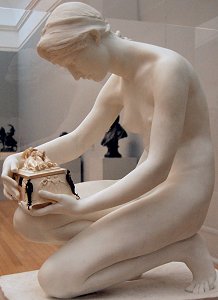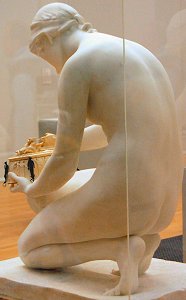 Details of face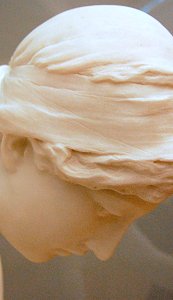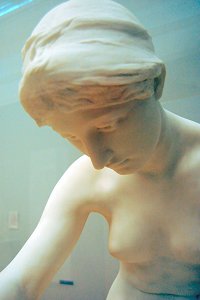 The box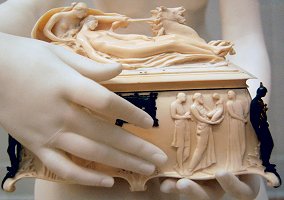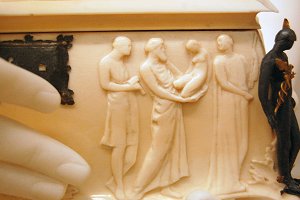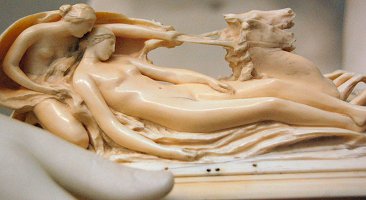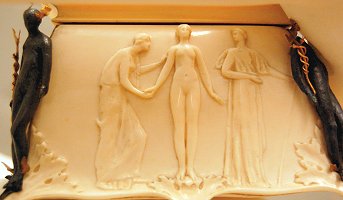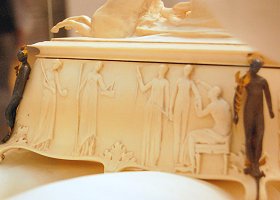 Comment on This Page
Site Introduction | Art Gallery Index | Return to Top of Page