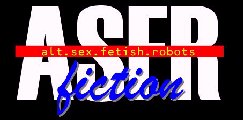 Main Page / Feature Page / Links Page / Contact Me
---
Welcome to the Feature page. This is where we will take time to highlight a particular story or stories that we think you should definitely read. Think of it as a long-distance dedication. (Except it doesn't involve music, there's no dedication, and it's not really long distance. On second thought, forget it.) Enjoy the works of a wonderful ASFR author with "The Offer, Part 2" and the ALL-NEW "The Offer, Part 3."
---
The Offer, Part 2
A follow-up to an already great piece of ASFR fiction, this 13(!) chapter story continues the adventures of Tim and Kim, and how new folks are given..."THE OFFER." It truly has something for all of you ASFR lovers out there. But I don't want to say too much, you just need to read it!
---

It's been some time since we last saw our favorite transformed androids. Find out how their lives are on their new homeworld.


When you least expect it, you might come to realize that what you're seeking isn't just a simple change...it's a chance to become. (I should write fortune cookies!)


Our favorite units get a new program to execute from an old friend. But first, they have to upgrade not only their bodies...but also their minds.


Ah...reunited. (And it feels so good!) Well, it really starts feeling good when our favorite units start exploring the new possibilites open to them...as well the new feelings they have for one another.


It's the day Sam's been waiting for...her package is delivered. But what she doesn't know is that her package is really going to deliver her to a whole new lifestyle. Check it out....


You could call it "the day after," but it's stil the same day. Sam's wondering what happened, and yet...she understands it. It's a chapter of introspection as she goes in search of her identity...with a lot of good ASFR stuff as well to make it fun. ;)


Sam's been on one hell of a ride so far, and she can't wait to share with it someone. Perhaps she can talk her friend Kim about it. But little does she know that her friend Kim isn't coming to visit...she's recruiting.


Ben's finally makes it home and just in time too. Seems that somebody's been waiting on him...literally. See how the two both get all wound-up when Kim decides to be...a "good girl."




The next morning brings confusion to one person, and progress for the other. See the steps Sam takes to not only live out her dream, but make sure Ben isn't far behind.


Our T units are sent to help with the new units...and not just Ben and Sam. An ordinary aerobics class turns extraordinary as a new group of people are given "The Offer."




For Ben and Sam, it's the ultimate moment: Stage Three. Transformation abounds as our couple proceeds in their final steps to become...androids.


It's a brand new world for our brand new androids. Watch Units N979 and N982 explore their surroundings (and each other) for the very first time. ;)


More candidates are processed...but this time, by their peers! A well-crafted ending by the author that wraps it all up as everything old is new again.
---
It's the latest edition of "The Offer" universe! Follow Wendy---from The Offer, Part 2---for 11 chapters as she continues her journey in becoming a robot. See Wendy's desperate struggle to belong in the robot world, and discover why she's going to be so critical to the android race. And of course, there's plenty of ASFR themes for you to enjoy! So read away and make sure you drop a line to the author! Enjoy!
---

Meet Wendy. She's the talk of the campus. But little does the public know, she's actually recruiting. See her interact with college co-eds and a would-be flame in this opening stanza!


Hey, even androids need to socialize. Get an inside look into the facility---and the androids---as Wendy goes in search of some answers to some bothersome questions.


The Beatles sang, "I get by with a little help from my friends." The same could be true for Wendy as well. Learn the units deal with wayward robot wannabes. And why for Wendy...why it doesn't seem to be enough.


Everything seems to be in perfect order for Wendy now...except it isn't. And it's becoming more obvious to others as well. Discover how Wendy is going WAY beyond her programming... and why no one is stopping her.


Wendy's back at school, and all seems right with the world again. But things are not always what they seem. And for our poor heroine, it's confusing as hell. Discover how talking about her problems leads Wendy to a major, unexpected solution.


Chapter is posted...description coming soon...


Chapter is posted...description coming soon...


Chapter is posted...description coming soon...


Chapter is posted...description coming soon...


Chapter is posted...description coming soon...


Chapter is posted...description coming soon...
---
And while you finish this story, we encourage you to revisit the inspiration for this sequel, The Offer by Android675 (Android675@aol.com). You'll be glad you did!
---
If you have any new stories or any updates of fiction, give me a holler:
---
©1997-2003 The Robo-Lover All Rights Reserved.