This is an ARCHIVED version of this site, brought to you by The Pygmalion Syndrome.
All copyrights remain with the original creator(s).
At last, after months of searching, I have found the page head photo for the Salon des Living Dolls page on the Internet Archive Wayback Machine. The jigsaw is finally complete. Some of the pictures may be substitutes and some of the links may be missing, but I'm pleased to announce that I have finally restored this site as closly as posible to its original glory. As always, any comments are welcome.
--Leem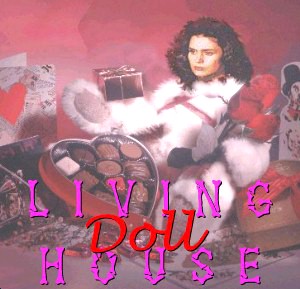 Living Doll House - THE MAIN HALL
Latest update:
August 22, 2002 (A l c a z a r on Barbie Lives)
Living Doll House is a virtual community for people who dress up to look like (their) dolls in particular and like toys in general. And while we are at it, we will fit in the Living Statues too. Just as the ConFURences are full of fake fur, paws and long wooly ears, there are people who identify with their Barbie, their pet bear ... not much, but they are out there. So, a few pictures, links and stories here.

LE SALON DES LIVING DOLLS * THE LIVING MANNEQUIN SHOP WINDOW * BARBIE LIVES * LIVING STATUES

Note: Although I occasionally love to help people in finding a suitable Living Statue or Living Doll for their events, I'm not a booking agency and I'm in no way connected to the acts mentioned on this site. If there isn't an address mentioned, chances are I don't have it.

I've had problems with mailadress harvesting viruses,
not to mention spambots doing the same thing. I've decided to
remove the direct mail links from my pages - a case in point of bad people
spoiling it for the good. If you want to mail me, you can use the address
visible on the picture below but you have to type it over manually into your address line.

---